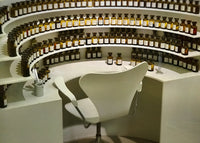 Fragrance, How Do You Tell?
When you test a fragrance, there are many layers unfolding for hours. If you are searching for fragrances that last, we would love to serve your needs! Feel free to try out our samples before making your final decision.
***Legal Disclaimer Notice***
Enhances U Vyzon Type fragrances compete with the designer brands.
We do not use their fragrances and are not associated in any way with the designer brands or their manufacturers.
All trademarks are property of their respective owners.
We are in compliance with the Federal Trade Commission's Statement of Policy Regarding Comparative Advertising.